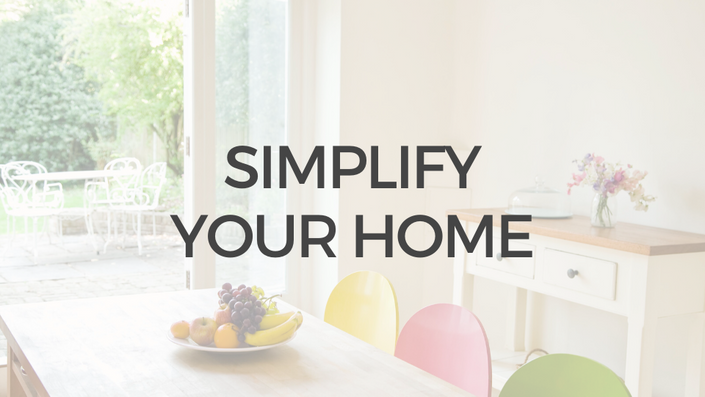 Simplify Your Home
Ditch the chaos, lessen the stress and take control over your home
Simplify Your Home is a complete home decluttering course to help you ditch the chaos, lessen the stress and get control over your home.
It's your first but vital step to creating more time, space and freedom for the things that are most important to YOU.
My course is designed for busy people who've had enough of settling for just getting by.
HOW DO YOU SPEND YOUR DAYS RIGHT NOW?
Think about how you're feeling right now. If you're being really honest with yourself, are you loving life, being intentional and present and making the most of every opportunity that comes your way? Or, are you spending your days filled with a little resentment, frustration or just feeling plain old worn out and worn down?
Stay with me whilst we find a way to change that...
DO ANY OF THESE SOUND FAMILIAR?
If you're a busy mum with a busy family, do you find yourself struggling too much some days?

Or, instead of juggling the kids, are you juggling a demanding job with long hours at work that leave you drained with little time for anything else?

Do you sometimes feel overwhelmed, frustrated, worn out and wondering if this is just what normal, daily life is all about?

Is your precious free time spent doing endless loads of laundry, washing dishes, clearing up toys or catching up on housework?

Do you wish you had more time, energy, space and freedom to do the things that you WANT to do, instead of just what you HAVE to do?

Have you had enough of settling for a life that's happening TO you and instead want a life that's happening BECAUSE of you?
HOW DO YOU FEEL ABOUT YOUR HOME RIGHT NOW?
What do you feel when you walk in through your front door? Are you pleased to be home after a day at work or a busy day out with the kids? Are you ready to relax, play with the kids or just enjoy being back home?
Or do you dread coming back to the mess and untidiness which you left behind? You know that when you closed the front door earlier, everything would still be waiting for you when you got back!
Sometimes it feels like a constant struggle to keep our homes clean and tidy, yet our home is so important.
Our home is our sanctuary from the world

It's the place where we can relax and unwind

Spend time doing what we want with our family and friends

A space we're proud to live in and a unique reflection of ourselves
At the moment though you might feel yourself spending all your precious free time and energy looking after your home.
Keeping it clean and tidy is a never-ending battle if you've got a busy life and busy family.
Your home can be more like a burden than a sanctuary.
BUT IT DOESN'T HAVE TO BE THIS WAY
You know that the home needs to be cleaned and cared for
But there's got to be a way to make it quicker and easier to
Give you more time to spend on people and things that matter to you
More energy for the things that you want to do
And, that's why you're reading this…
"A house is made with walls and beams. A home is made with love and dreams." (Unknown)
WOULD THIS BE BETTER?
Would you prefer your home to be calm, relaxed and a welcoming space for you and your family to spend time in?
Do you wish you had more time to do the things that you WANT to do, instead of just what you NEED to do?
This course will teach you how to declutter your home, organise your space, streamline how you manage your home and get systems in place to help you keep it clean and tidy.
You'll be able to…
Spend time with your kids, playing with that Lego instead of constantly picking it up
Chill out in the evening with your partner, a film and a glass of wine, instead of catching up on laundry and washing the dirty dishes
Do other things instead of housework like heading off to the park, hitting the gym or going out for the day
Stop worrying about the state of your home or playing catch up on your chores if you get behind
WHAT'S BEEN GOING WRONG SO FAR?
Daily life (particularly with kids) can be busy and chaotic.
We bring stuff into our homes which adds to the clutter. That clutter builds up and invades our space.
We have to look after that clutter – tidy, clear and clean it. That uses up our time and energy.
But it doesn't have to be this way...
HOW CAN YOU CHANGE THINGS?
If you're overwhelmed by the clutter and/or constantly looking after your stuff (picking it up, moving and cleaning it), then your home is probably taking up too much of your time and energy.
Your days will be spend looking after and managing your home (or at least thinking about it).
But there's more to life than that. This course will show you how to change things.
DECLUTTER YOUR HOME, remove the stuff that you and your family don't use, no longer need and get no enjoyment from.
END UP WITH LESS STUFF generally so it's easier to look after what you've got left. As it's easier, it's also quicker! Tidying the home and keeping it clean takes less time.
LESS TIME DOING CHORES and looking after your home and the stuff in it.
MORE ENERGY to do other things because you won't be worn out from playing catch-up with the housework, that constant battle against the toys or dirty dishes and laundry piles that you're sorting every evening.
YOUR FIRST STEP to an easier life.
That's why simplifying your home can have such a huge impact on your emotional well-being and happiness as much as your home!
THERE'S SCIENCE BEHIND IT...
Studies have shown that the amount of clutter around you is directly proportional to stress levels, especially for women. The more clutter, the more stress.
The more clutter you have, the more time you spend looking after it - cleaning, tidying and moving it.

Therefore, by reducing the amount of clutter you have, the lower your stress levels. Bingo!
LESS CLUTTER = LESS STRESS
Less clutter in your home and life creates more clarity in your heart and mind.
SO, HOW CAN SIMPLIFY YOUR HOME HELP YOU?
Simplify Your Home is a complete home decluttering course. You'll learn how to declutter every area and room in your home. It's the first step you can take to a simpler, easier and more intentional life that really supports YOU!
This course is for you - whether you've got kids or not, whether you're single, married, with a high-flying career that makes you travel alot or a stay-at-home mum with a tiny baby. This course is for everyone!
If you're fed up of juggling too many things and not having space or time for the things you WANT to do because you're always doing what you HAVE to do, then this course is for you.
WHY TAKE THIS COURSE?
When you're pushed for time, struggling to keep on top of the housework or generally feeling run down, worn out or in need of help to make changes, then you need some support, guidance and encouragement.
This course will do just that!
All the information you need to declutter your home, get organised and get your home in order with MINIMUM EFFORT for MAXIMUM IMPACT is right here in one place.
That means...
No searching for all the relevant information
No wasting time making mistakes
No giving up beause you haven't got the time or motivation
No excuses or procrastination
Just all the information in one handy place, clearly and carefully laid out, whenever you need it.
THIS ISN'T JUST ANOTHER DECLUTTERING COURSE!
Decluttering is easy if you just think about it in terms of getting rid of the stuff you don't use but what about if...
Your partner and family don't agree or feel the same way?

You've got little kids, a full time job, maybe both and you've got no time?

You've tried it before but didn't know how to decide what to keep and what to get rid of?

You like shopping and want to keep doing it!

You've got year-on-year accumulated clutter and decluttering just seems overwhelming?

You've already decluttered but the clutter just keeps creeping back in?
This course is a detailed look at decluttering but its other purpose is to help tackle those problems that either stop us starting or stop us from keeping it up. These are the root issues which hold most of us up from seeing and feeling the benefits of decluttering and which this course will help you solve, once and for all!
THIS IS YOUR LIFE. RIGHT HERE, RIGHT NOW...
There's a quote by Annie Dillard,
'How you spend your days is, of course, how you spend your life'.
Every day that goes by is precious. This is your life right here, right now. You'll get older, your kids will get older and it's up to you to make your life count, every moment of it.
WHAT WILL YOU LEARN?
Simplify Your Home includes over 50 lessons, each of which are practical, easy-to-follow and without lots of waffle.
They include:
The basics - An introduction to minimalism, simplifying and decluttering your home even if you know nothing about it
The benefits - A look at the benefits of decluttering and how simplifying your home can start to totally change your life
Actionable, simple steps - Easy to follow, step-by-step instructions for decluttering each room and area of your home so you can see and feel results fast!
Getting others on board - Advice on how to declutter when no-one else in your family understands what you're doing or why and how to explain it to your partner and kids!
If you don't have much time - Helpful tips on how to declutter when you're pushed for time or you have the kids with you 24/7
Support for when you're stuck - How to find the motivation to carry on when you're stuck, run out of energy or just feeling totally overwhelmed
Tackling clutter hotspots - Practical help on how to tackle difficult to declutter areas such as sentimental items, your children's artwork and dumping grounds like the attic and garage
Maintenance - Advice on how to maintain your home once you've decluttered so that you'll never feel overwhelmed by it again
Projects and challenges - Quick decluttering projects and easy challenges for when you need a quick-fix solution to problem clutter areas!
How to set up routines - Help and support to develop routines and habits that help you keep your home running smoothly even if life is crazy and you don't have much time!
Changing the way you think - How to change your mindset so you can focus less on your stuff and more on having fun, enjoying your life, spending time as a family and appreciating the little things that mean the most
HOW THE COURSE IS TAUGHT
Easy-to-use online hosting platform called which is well-known and popular for flexibility and functionality
Simple and user-friendly layout with the course split into different modules and within each module are a set of lessons
Over 50 individual lessons each covering a separate topic. Any updates and new content will be added automatically
Downloadable resources including workbooks, challenges and checklists which you can download and print if you like
Individual, self-contained lessons so you can follow the order I've laid out or dip in and out depending on where you need help the most
Log back in at any time, track your progress, revisit lessons whenever you want and take as much time as you need.
COURSE WORKBOOK
The 20+ page downloadable course workbook will help you stay focused and encourage you to think about your home and your stuff in a different way.
'If you keep doing the same thing, don't expect a different result.'
It's a well-known but very true statement and a reminder that if you really want things to change then you have to THINK and DO things differently.
This workbook will help you do just that with lots of interactive question prompts to get you really thinking about your life now, how and why you want it to change.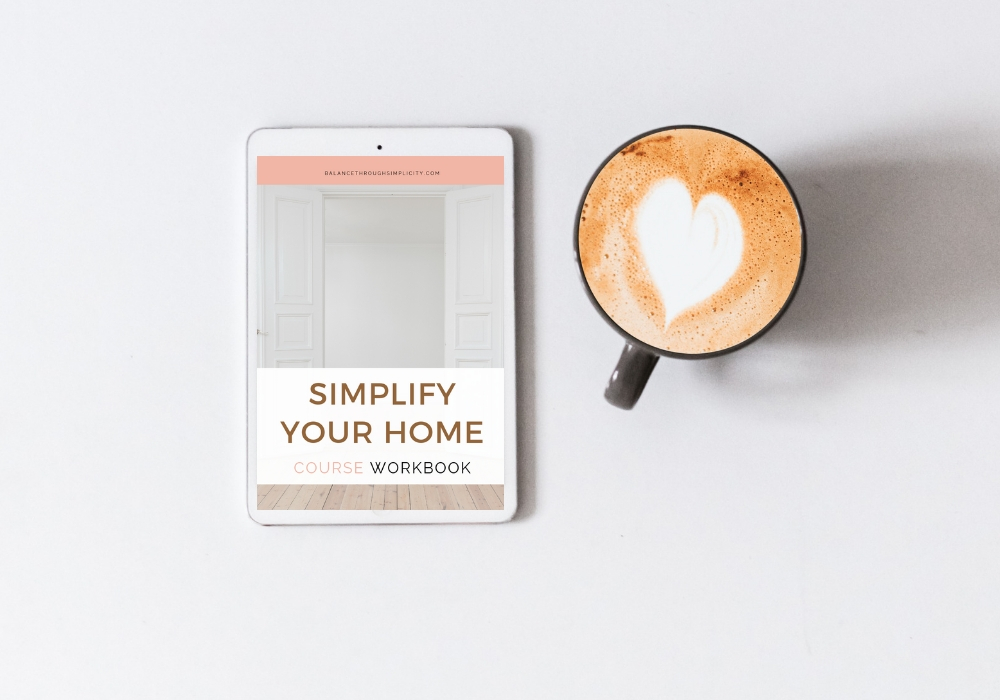 Course Curriculum
MODULE 1 - GETTING STARTED
Available in days
days after you enroll
MODULE 2 - INTRODUCTION TO MINIMALISM
Available in days
days after you enroll
30-DAY MONEY BACK GUARANTEE
I try to make your life easier and simpler so I'd never want you to be unhappy! If you are unsatisfied with your purchase, contact us in the first 30 days and we will give you a full refund.
Frequently Asked Questions
When does the course start and finish?
The course starts now and never ends! It is a completely self-paced online course - you decide when you start and when you finish.
How long do I have access to the course?
How does lifetime access sound? After enrolling, you have unlimited access to this course for as long as you like - across any and all devices you own.
What if I am unhappy with the course?
We would never want you to be unhappy! If you are unsatisfied with your purchase, contact us in the first 30 days and we will give you a full refund.
Your Instructor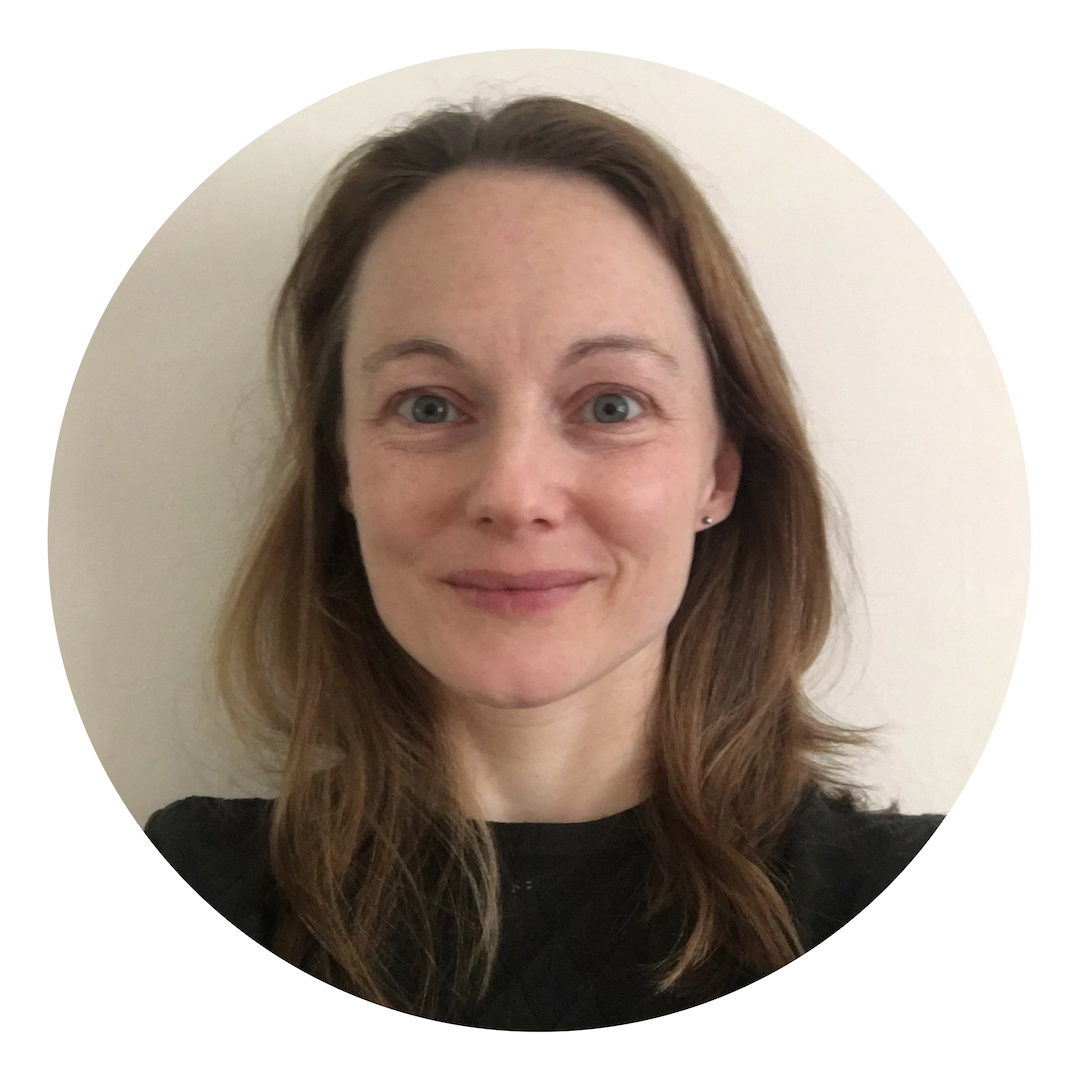 Welcome to Balance Through Simplicity. I'm Antonia and I'm passionate about helping busy people declutter their homes and simplify their lives.
For many years I juggled raising a young family with a demanding job. I ignored the warning signs of doing too much for too long until a melt-down at work forced me to re-evaluate my life and my misplaced priorities.
Through a lot of research and a fair amount of trial and error, I learnt that simplifying my life was the key to an easier, less stressful but much more fulfilling life for myself and my family.
Over the years I turned my passion for the simple life into a website which helps other busy people simplify their lives too.