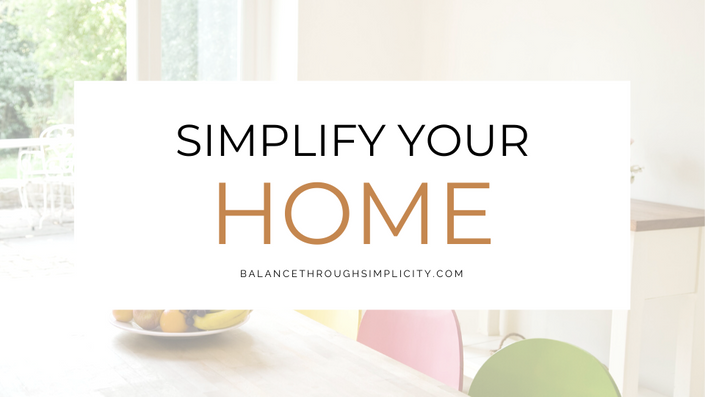 SIMPLIFY YOUR HOME
Streamline your home, lessen your stress, create more freedom
STREAMLINE YOUR HOME SO YOU CAN GET ON WITH LIVING YOUR LIFE
Deal with the clutter and chaos
Feel less overwhelmed and stressed
Create more time for you and your family
These are just some of the benefits. Are you ready?

DOES THIS SOUND FAMILIAR?
Do you find yourself struggling some days as you raise your kids, run your home, deal with work and/or generally lurch through life?
Do you feel drained having to juggle a demanding job whilst managing your home and looking after your family?
Do you get overwhelmed, frustrated, worn out and wondering if this is just what normal, daily life is all about?
Is your precious free time spent doing endless loads of laundry, washing dishes, clearing up toys or catching up on housework?
Do you crave more time, energy, space and freedom to do the things that you WANT to do, instead of just what you HAVE to do?
If you're being really honest with yourself, are you loving life, being intentional and present and making the most of every opportunity that comes your way?

Or, are you spending your days filled with a little resentment, frustration or just feeling plain old worn out and worn down?

Do you find yourself wondering if this is what normal life is all about or is there something you're missing?
I know how you feel because I used to feel like this too...
BUT IT DOESN'T HAVE TO BE THIS WAY
You don't want to settle for 'making do' anymore...
You know that the home needs to be cleaned and cared for
But there's got to be a way to make it quicker and easier to give you:
More time to spend on people and things that matter to you
More freedom to do the things you WANT to do instead of just what you HAVE to
You want to make the most of your life, your time with your kids and the things that are important to you RIGHT NOW.
And, that's why you're reading this…
HOW CAN YOU CHANGE THINGS?
Your home can either be a peaceful haven and sanctuary from the world or it can be a heavy burden on your time, energy, mind and heart.
If you're overwhelmed by the clutter and/or constantly looking after your stuff (picking it up, moving and cleaning it), then your home is probably taking up too much of your time and energy.
Your days will be spent looking after and managing your home (or at least thinking about it).
But there's so much more to life (and you) than that...
This course will show you how to change things.
Declutter your home, remove the stuff that you and your family don't use, no longer need and get no enjoyment from.
End up with less stuff generally so it's quicker and easier to look after what you've got left.
Spend less time doing housework and more time doing things you want to do.
Have more time and energy for hobbies, catching up with friends, learning new skills, spending time with family, travelling, studying and looking after yourself.
This course is a step-by-step approach to simplifying your home so you're freed up to lead a full, abundant life...
(There's also a full 30-day refund policy so you've got nothing to lose and potentially so much to gain 😊)

SO, WHAT'S BEEN GOING WRONG SO FAR?
Daily life (particularly with kids) can be busy and full-on.
Our homes bear the brunt as clutter and chaos invades our space.
We have to look after that clutter – tidy, clear and clean it.
That uses up our time and energy.
We struggle to keep on top of it all whilst still juggling family, work and daily life.
We're always playing catch-up and we struggle to find ways to break the cycle
But it doesn't have to be this way...
This course will help you take control over your home instead of your home controlling you.
I know you've probably already got a million things on your To Do List, deadlines at work, kids to feed and a home to clean!
So you're not going to have spare time, energy or oomph to try out new ways of doing things or piece together ideas and strategies to help you make things easier RIGHT NOW!
What you probably need is help to take action that will make a difference today.
This course has everything you need to streamline your home - all in one place.

IMAGINE HOW YOUR LIFE COULD BE DIFFERENT...
Once you've decluttered your stuff, streamlined your home and set up systems to manage your housework then you can get on with the rest of your life...
Your home will run on auto-pilot

It doesn't matter if you take a break from housework

You'll be happy to invite family and friends over

Spend your free time playing with the kids or reading your book

Chilling with your partner instead of catching up on laundry

Stop stressing about your home and start living your life

Safe in the knowledge that your home is clean, tidy and ready for you whenever you need it
So, how can you make this happen?
Simplify Your Home will take you through the whole process, step-by-step.
It's the first step you can take to a simpler, easier and more intentional life that really supports YOU!
And why is decluttering your home so important? 🤔
You may be wondering how decluttering and setting up systems to organise your home can really make such a big difference? Maybe you're questioning how such seemingly small steps can really have sweeping impact on the rest of your life?
Well, decluttering my own home was one of the first things I did when I was struggling to manage work, kids, me-time and life in general.
However, it turned out that clearing the clutter and making my home easier and quicker to run was just the springboard for everything else…
I found time for hobbies, self-care, family. I had time to find and focus on my priorities without being brought down by endless To Do lists, chores and household tasks.
Clearing the clutter in my home was just the start of my journey to clearing the clutter in my life so that I could start finding and working towards that full and abundant life I mentioned before.
That's what I believe Simplify Your Home will do for you. 😊
HERE'S WHAT YOU'RE GOING TO LEARN
Simplify Your Home includes over 50 lessons. They're practical, easy to follow and without lots of waffle.
#1 HOW CLUTTER HOLDS YOU BACK
The basics - An introduction to minimalism, simplifying and decluttering your home even if you know nothing about it
The negative effects of clutter - And what this means for you

The benefits

- A look at the benefits of decluttering and how simplifying your home can start to totally change your life
Actionable, simple steps - Easy to follow, step-by-step instructions for decluttering each room and area of your home
Tips and tricks - So you can see and feel results fast!
Projects and challenges - Quick decluttering projects and easy challenges for when you need a quick-fix solution to problem clutter areas!
#3 GETTING YOUR FAMILY ON BOARD
Explaining to your family - How to declutter when no-one else in your family understands what you're doing or why and how to explain it to your partner and kids!
If you don't have much time - Effective strategies on how to declutter when you're pushed for time
When you've got little kids - Tips to declutter when you're a busy mum with a busy family
#4 PROBLEMS AND SOLUTIONS
Support for when you're stuck - How to find the motivation to carry on when you're stuck or run out of energy
Tackling clutter hotspots - Practical help on how to tackle difficult to declutter areas such as sentimental items, your children's artwork and dumping grounds like the attic and garage
Learn the skills - To make decluttering work for you
#5 STAYING CLUTTER-FREE
Maintenance - Advice on how to maintain your home once you've decluttered so that you'll never feel overwhelmed by it again
How to set up routines - Help and support to develop routines and habits that help you keep your home running smoothly even if life is crazy and you don't have much time!
Keep control of your home - More time and energy for the rest of your life!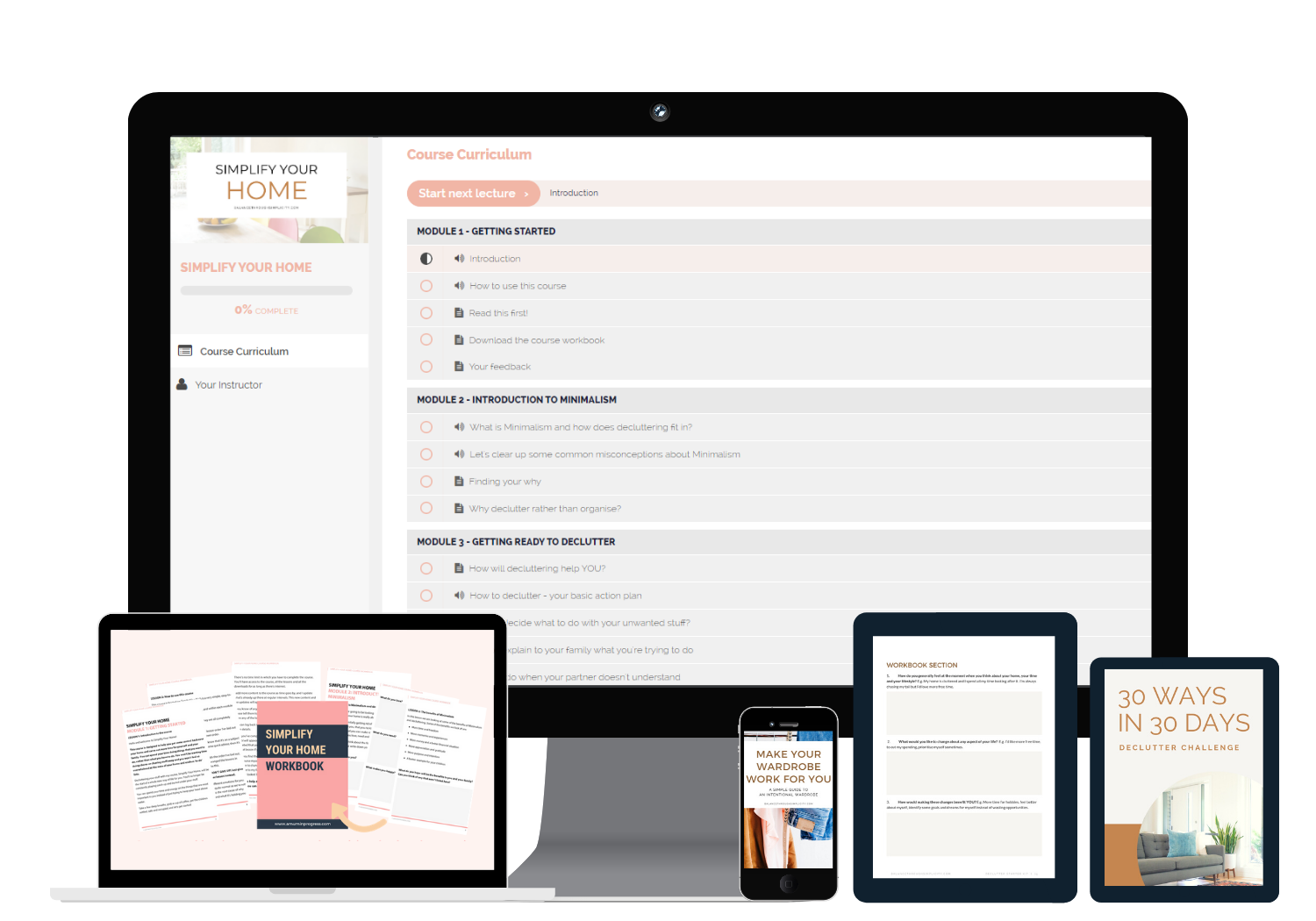 THIS COURSE IS FOR YOU IF...
You're not sure how to declutter or where to start

You've tried to declutter but hit some problems

You don't know how to get your family on board or you're pushed for time

You need guidance, motivation and structure rather than going it alone

You feel your home takes up your time and energy but you're ready for change...
THIS COURSE ISN'T FOR YOU IF...
You're not interested in making positive change or ready to simplify your life

You like lots of clutter and it doesn't affect you in ANY way, even if you don't realise it

You're not interested in freeing up your time because you have loads of it to spare

You're already completely organised and on top of things, like a superhero, every single day...
If you're an action-taker and not willing to settle for 'getting by' anymore, I can help.
Whether you've got kids or not, whether you're single, married, with a high-flying career that makes you travel alot or a stay-at-home mum with a tiny baby. This course can help!

If you're fed up of juggling too many things and not having space or time for the things you WANT to do because you're always doing what you HAVE to do, then this course is for you.
THIS IS YOUR LIFE. RIGHT HERE, RIGHT NOW...
DON'T WASTE ANOTHER SECOND...
When you're pushed for time, struggling to keep on top of the housework or generally feeling run down, worn out or in need of help to make changes, then you need some support, guidance and encouragement.
This course will do just that!
All the information you need to declutter your home, get organised and get your home in order with MINIMUM EFFORT for MAXIMUM IMPACT is right here in one place.
That means...
No searching for all the relevant information
No wasting time making mistakes
No giving up beause you haven't got the time or motivation
No excuses or procrastination
Just all the information in one handy place, clearly and carefully laid out, whenever you need it.
There's a quote by Annie Dillard,
'How you spend your days is, of course, how you spend your life'.
Every day that goes by is precious. This is your life right here, right now. You'll get older, your kids will get older and it's up to you to make your life count, every moment of it.
Declutter your home like a pro right now and take your first step to living a fuller life on YOUR terms...
30-DAY MONEY BACK GUARANTEE

I try to make your life easier and simpler so I'd never want you to be unhappy! If you are unsatisfied with your purchase, contact us in the first 30 days and we will give you a full refund.
Frequently Asked Questions
When does the course start and finish?
The course starts now and never ends! It is a completely self-paced online course to fit around your life - you decide when you start and when you finish.
How long will the course take me?
This is impossible to answer because everybody works at different speeds and it depends on what else is going on in your life to take up your time and energy! What I can say is that half an hour a day will help you make great progress if you're consistent and determined.
How do I receive future updates?
I update the course regularly. These will be added automatically to the course as soon as they are available so you'll never miss out!
What if I've got more questions?
If there's anything else you'd like to know but it's not covered here, drop me an email at hello
[email protected]
and I'll get back to you asap!
What if I'm unhappy with the course?
We would never want you to be unhappy! If you are unsatisfied with your purchase, contact us in the first 30 days and we will give you a full refund.
Your Instructor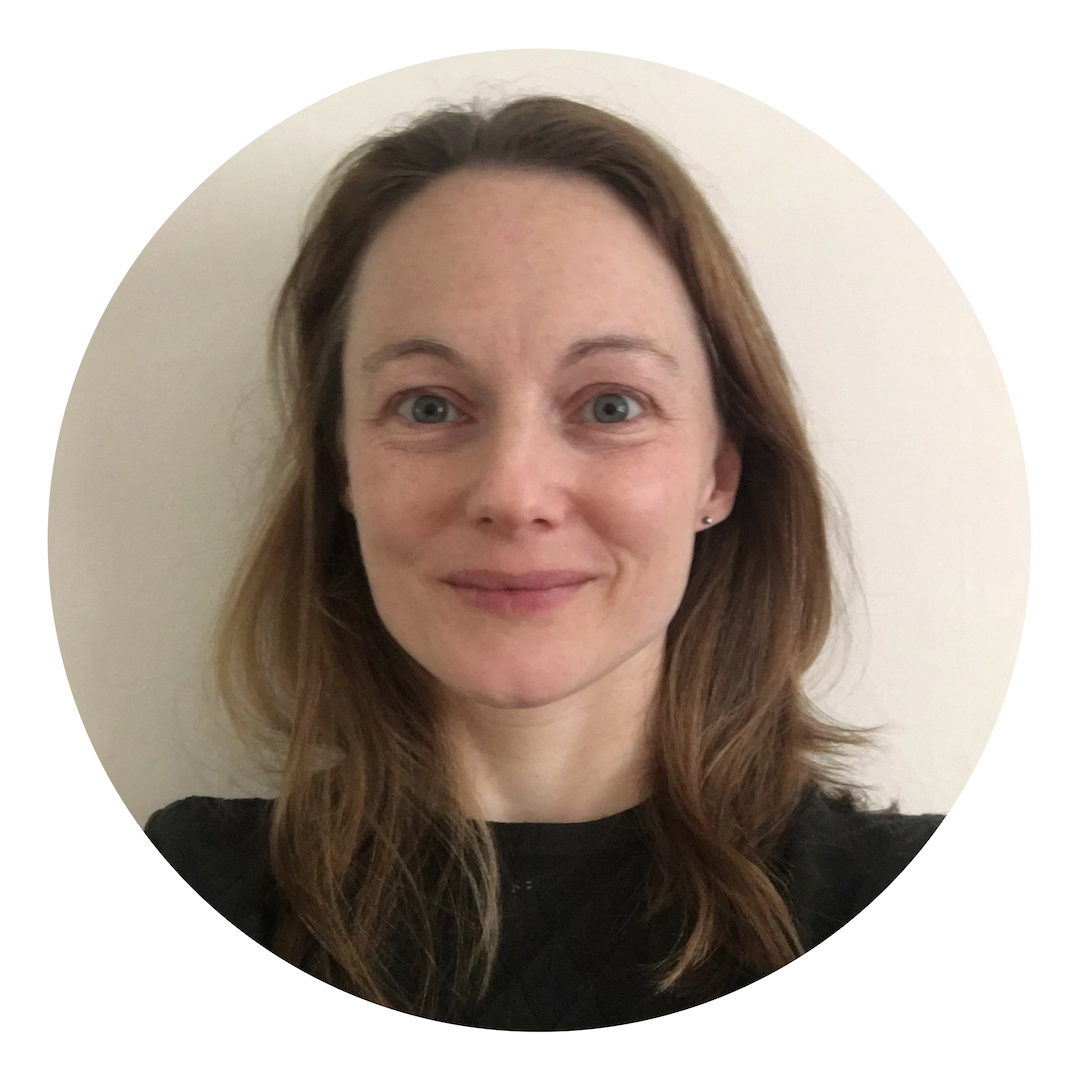 Welcome to Balance Through Simplicity. I'm Antonia and I'm passionate about helping busy people declutter their homes and simplify their lives.
For many years I juggled raising a young family with a demanding job. I ignored the warning signs of doing too much for too long until a melt-down at work forced me to re-evaluate my life and my misplaced priorities.
Through a lot of research and a fair amount of trial and error, I learnt that simplifying my life was the key to an easier, less stressful but much more fulfilling life for myself and my family.
Over the years I turned my passion for the simple life into a website which helps other busy people simplify their lives too.