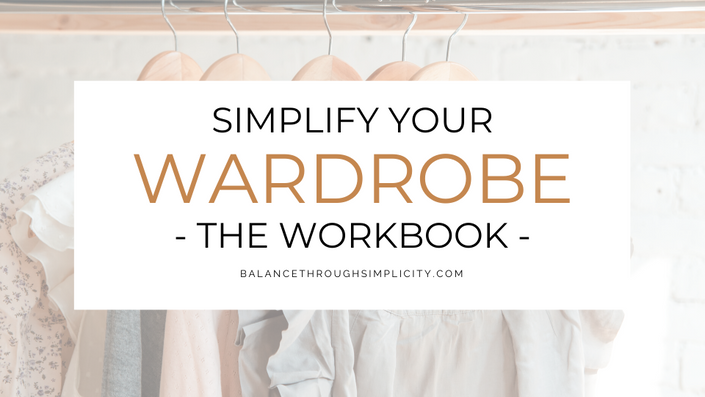 SIMPLIFY YOUR WARDROBE - THE WORKBOOK
Declutter your clothes, love your style and get dressed each day with ease
STREAMLINE YOUR WARDROBE SO YOU CAN FEEL GREAT EVERY DAY
Declutter your clothes
Make it quicker and easier to get dressed each day
Cut your stress and feel great
These are just some of the benefits. Are you ready?
THE ULTIMATE WORKBOOK TO MAKE YOUR WARDROBE WORK FOR YOU!
When you go to get dressed every morning, do you throw open your wardrobe doors with excitement?
Or are you grabbing the first thing that comes to hand because you don't have much time, you can never find something to wear that you feel good in and it's all just a bit of a hassle?
Do you wish you were more like some of your friends who always look put together even though you know they're still busy like you and have lots to do each morning before they leave home?
Do you feel better when you know you look better? Doesn't having more confidence and positivity really set you up for a better day ahead?
I know it does for me… 😊
As adults, it's generally reported on the internet that we make over 35,000 remotely conscious decisions every day. That's a lot of decisions!
Each of those decisions requires brain power and this uses up our time and energy.
One of the first decisions you make each day is deciding what to wear.
You can start your day off on the right footing by simplifying your wardrobe and making it easier and quicker to find what you want to wear… and set the tone for the rest of your day!
"If you look good, you feel good, and if you feel good, you do good."
Georges St-Pierre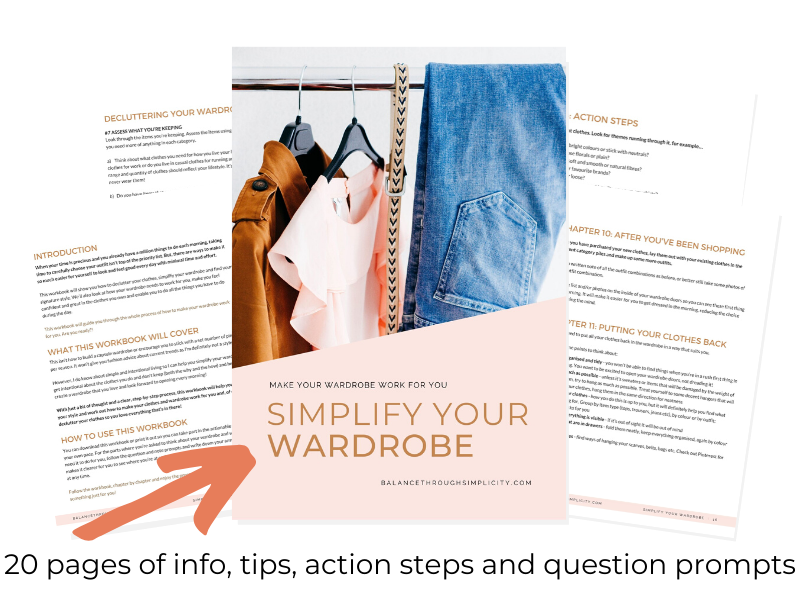 WHAT YOU'LL LEARN
This workbook will walk you through the exact steps to creating a wardrobe that works for you and your life.
What's included:
Step-by-step, detailed instructions to declutter your wardrobe from start to finish
Questions to help you work out exactly what clothes you need to suit your lifestyle
How to put together combinations easily and quickly to cut down on wasted time and yet more decision-making
Analyse your current wardrobe and identify what works and what doesn't
Advice on how to build a signature style that's unique to you
Tips to help you shop more carefully and save money
All of these steps will help you create a wardrobe full of clothes that you love to wear, is easier to choose from and makes it quicker to get dressed each morning.
Cut your stress and feel great every day! 💛
LET'S MAKE YOUR WARDROBE WORK FOR YOU...
Find your own style and have the courage to stick to it.
Choose your clothes for your way of life.
Make your wardrobe as versatile as an actress. It should be able to play many roles.
Find your happiest colours - the ones that make you feel good.
Care for your clothes, like the good friends they are!"


Joan Crawford
7-DAY MONEY BACK GUARANTEE
I try to make your life easier and simpler so I'd never want you to be unhappy! If you are unsatisfied with your purchase, contact us in the first 7 days and we will give you a full refund.
Frequently Asked Questions
How long is the workbook available?
The workbook is available for as long as the product exists which is a long time! You can download it to your pc and print it off if that's easier for you to work with.
Will I receive any updates?
Any updates to the workbook will be added automatically so you'll always be able to access the most up-to-date version of the workbook whenever you log in.
Do you offer a refund on this product?
I'd never want you to be unhappy with any of my resources, so there's a 7-day full money back guarantee if you contact me within 7 days of purchase.
What format is the workbook in and how do I access it?
The workbook is in PDF format. It's a mixture of chapters with information, bullet points and actionable steps, together with lots of questions and space for you to write your answers, think about options and make notes. You can print it out to complete by hand and refer back to your answers if it helps, for example, jog your memory when shopping, putting together new outfits or swapping seasonal wardrobes. You can access the workbook at any time using the log in details for teachable.com you created at the time of purchase.
Your Instructor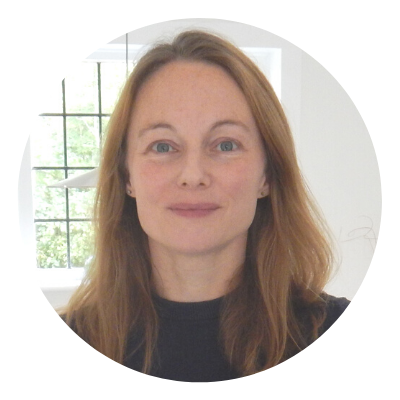 Welcome to Balance Through Simplicity. I'm Antonia and I'm passionate about helping busy people declutter their homes and simplify their lives.
For many years I juggled raising a young family with a demanding job. I ignored the warning signs of doing too much for too long until a melt-down at work forced me to re-evaluate my life and my misplaced priorities.
Through a lot of research and a fair amount of trial and error, I learnt that simplifying my life was the key to an easier, less stressful but much more fulfilling life for myself and my family.
Over the years I turned my passion for the simple life into a website which helps other busy people simplify their lives too.